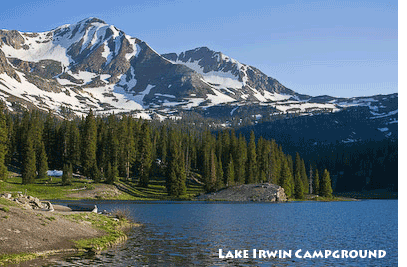 Located in Gunnison National Forest, the Crested Butte District brings you the Rocky Mountain experience front and center!
Two peaks over 14,000 feet, and 20 peaks over 13,000 feet in elevation add to the majestic thrill.
Popular backcountry areas include Fossil Ridge La Garita, Maroon Bells-Snowmass, West Elk, Collegiate Peaks and West Elk Wildernesses. Opportunities abound for camping, river fishing, and rafting at Taylor Canyon, a 20 mile long canyon with 1,000 feet high walls. At the northeast end of the canyon, almost 30 miles from Gunnison, is Taylor Reservoir, at the northeast end of the canyon is just 30 miles from Gunnison. The Crested Butte area is quite popular for mountain biking as well.
Blue Mesa Reservoir, part of Curecanti National Recreation Area, is the largest body of water in Colorado and provides outstanding year-around fishing.
There are hundreds of miles of hiking trails on the Gunnison National Forest ranging from easy day hikes, to moderate and rugged multi-day backcountry trips.
RECREATION RESOURCE MANAGEMENT
of AMERICA CAMPGROUND SITES
Cement Creek
Erickson Springs Campground
Gothic Campground
Lake Irwin Campground
Lake Irwin Day Use Area
Lost Lake Campground