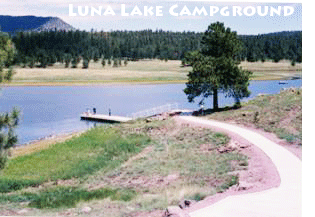 With over 200 miles of trout streams, not to mention 11 lakes, the Alpine Ranger District is a fisherman's paradise! Bear Wallow Wilderness and the Blue Range Primitive Area are also part of the Alpine District. Along with camping and fishing, other popular recreational activities in the Alpine District include hiking and horseback riding.
RECREATION RESOURCE MANAGEMENT
of AMERICA CAMPGROUND SITES
Alpine Divide
Luna Lake
EAST FORK - Aspen
EAST FORK - Buffalo Crossing
EAST FORK - Deer Creek
EAST FORK - Diamond RockDiamond Rock
EAST FORK - Horse Springs
EAST FORK - Raccoon
Recreation Resource Management of America encourages your input and requests your constructive comments and suggestions.